Did you know that NDP Group estimates domestic toy sales for 2014 to be in the $22 billion range? If you think the toy market is for kids, think again: according to this post from marketplace.org adults pay even more for toys they buy for themselves. Toynami is a company specialized in action figure collectables that was established in 2000 and has since established itself as a reference name among collectors. To grow further they needed their own app; they found our offer and jumped at it right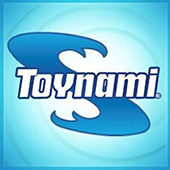 Shortly before San Diego Comic Con 2015, George Sohn learned about CashDocto.biz app building platform and was instantly interested in making a low cost app. He immediately realized that having his own app the SDCC can be invaluable. People come from all over US and many are interested in the collectables offered by Toynami, but they need a better way to stay in contact. The app offered a way to do just that. Building and testing the app, once Toynami decided on what features to include and how to personalize it took us no more than several days and it was published on Android on the 23rd of June, followed two days later by iOS publication.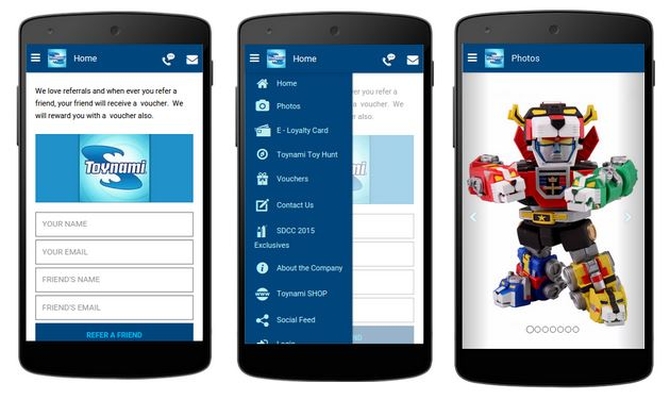 Above you can see the Toynami App's Homepage opening with a referral invitation. The Referral feature is what we call a "core feature", because it allows businesses to tap directly into the social network of satisfied customers and be advertised organically to friends and acquaintances. with the menu opened showing most of the app's pages. The next images shows Toynami menu with almost all of it's pages visible without having to scroll down. Since Toynami is, first and foremost, about collectables we ensured that the the Photos page has a prominent position and allows clients to thumb easily through the recent additions.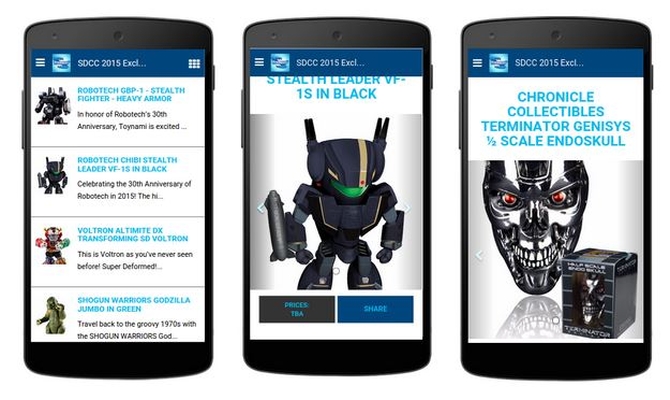 Toynami is a regular presence at various comic cons and they asked us to design a page dedicated to their generous offer of various collectables they will exhibit at SDCC 2015. Above you can see the SDCC page and two randomly selected items from the list - the Stealth Leader VF-1S and a Terminator Genisys ½ scale endoskull.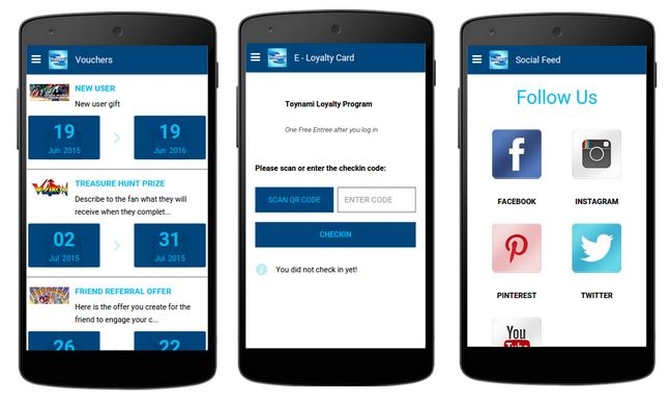 Toynami apps - like all the other CashDoctor.biz apps, so far - are adopting features in line with a more flexible business model that works with the customer, rather than independently of the customer. In our increasingly mobile culture, we strongly advocate the idea that satisfied customers are can be your greatest asset. Vouchers and E-Loyalty are the other two core features we've made available to businesses that want a functional and profitable app (see above). Finally, keeping in touch with your customers via social media isn't just an option anymore, but a must; Toynami Social Feed page brings all the social channels Toynami has opened for their clients onto a single page, making it is to follow.
You can have your own low cost app, personalized and designed with your needs and priorities in mind. Why not impress your customers with an app that bears your name on it at the next important event in your business schedule? Call us now and you will have it in just a couple of days!